I am sooo excited that I'm starting my new Make-Up blog....about something that I really really love and am really passionate about. I think all women should learn about make up and use it to enhance themselves. When you look good, you feel good! Stay tuned for all my make up tips and tricks and hints. Let's start off with my favourite: the "nude look" in ten easy steps. It just looks fresh and natural but polished. This is the best face to learn to do because you can add to it for an evening out, and it's really easy to touch up! I'm going to start filming tutorials for youtube, too, so stay tuned for those!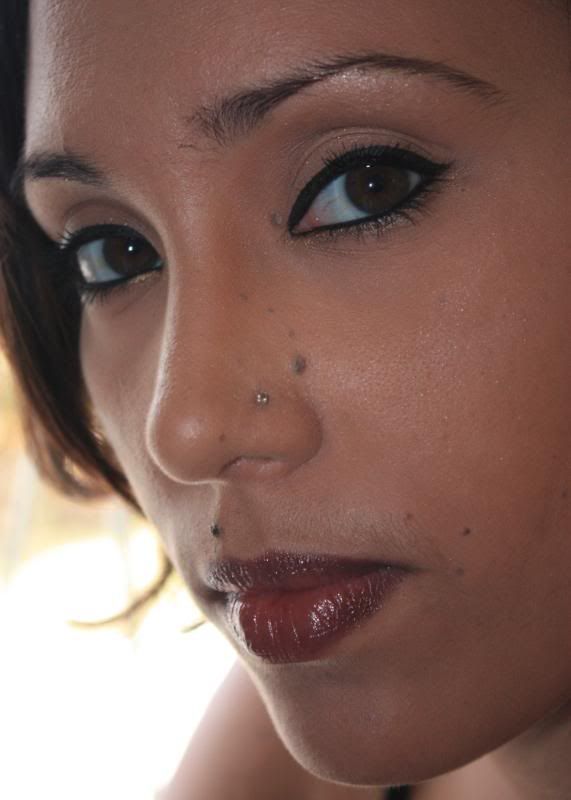 (1) Apply foundation. Make sure it matches your skin and that it's blended well. It doesn't matter if it's light, medium or full coverage, choose whatever makes you feel comfortable.
(2) Apply concealer a shade lighter than your foundation to the entire area under your eyes, and around your nose, and anywhere else you think you need some extra coverage.
(3) Set your foundation and concealer with powder. Remember,if you're using a puff, PRESS the powder into your skin, never rub. if you're using a powder brush, use DOWNWARD strokes, never UPWARD. The only place you don't sweep DOWN is under your eyes...sweep across from the nose-bridge to the temple.
(4) Contour if you want, brush some darker powder or a matte bronze with an angled blush brush along your temples, the sides of your forehead, the sides of your nose and under the cheekbones (corner of the mouth to the top of the ear). This makes you look defined and tanned. Just don't go too dark or you'll look weird!
(5) Use a pale, neutral shimmery or matte eye shadow all over your lid, from the lashline right up to the brow. if you're caucasian, you could use a pale yellowy or beige colour, if you're hispanic or indian, a bronze or taupe colour, and if you're of African descent, a copper or chocolatey brown. Basically use a colour that matches your natural flesh tone.
(6) Define your brows. Some people do this with brow gel that looks like clear mascara, you could also use a brow powder and a tiny stiff angled brush to darken your eyebrows. You could also use both, darkening the brows and then taming stray hairs with the brow styling gel. Eyebrows are VERY important because they shape and frame your face and make your eyes stand out. When you have nicely groomed and defined brows, you just look really well put together. Pay attention to how to shape your brows! I will post a blog on grooming the brows and findign the right shape soon.
(7) Curl your lashes, and apply your favourite mascara. Optional: before the mascara, apply a thin line of liquid liner to your top lashline. Do this if you want just a little more defintion. If not skip it!
(8) Line your water line with a black or dark brown khol eyeliner if you want to define the shape of your eyes. Or you could line your lower water line with white eye pencil to look bright eyed and awake.
(9) Apply your favourite blush lightly to the cheeks. If you want to you can also apply a highlighter to the tops of the cheekbones and down the center of the nose. This just gives an added bit of subtle drama to the face by bringing out the features and contouring it a little more by adding some depth.
(10) Apply lipbalm, lipgloss, or lipstick. use a lipliner if you want to, but for this look it's not necessary. It's Your choice!
You're done! Ten easy steps and now you look incredible and polished and ready for anything!
Much love and sparkles and beauty! See you next time!