Hey Beauties!!
I'm soooooo excited!
Today is my birthday! I'm off to dinner tonight, and right now I'm eating a piece of delicious cake that my neighbour Richard brought me. Rich is a very sweet older gentleman that's been a friend of my mother's family for years. I'm going out to dinner with the hubby tonight!
To celebrate I am buying myself Samatha Chapmans' RealTechniques Brushes! Sam is one half of
Pixiwoo
on Youtube and the creator of these amazing brushes.
I've been dying to try these brushes for a while now, so when I get them I'll definitely review them!
I also have another reason to celebrate: I'm uploading my very first ever Makeup Tutorial on Youtube!!
I filmed this yesterday, and although I only have a Flip, I think it came out ok. I'm still of course getting the hang of lighting and zoom and of course, staying in frame, but I think it's a pretty darn good first effort!! It's a sexy, kind of vampy look that I'm wearing for my Birthday, but it would also be sexy for a Valentine's date if you like a more sultry kind of look.
These were my inspirations: Kim Kardashian with her super sexy eyelashes:
And one of my favourite characters from True Blood, Lorena. I fell in love with this early 1930s look of Lorena's.
So here's the finished look on me!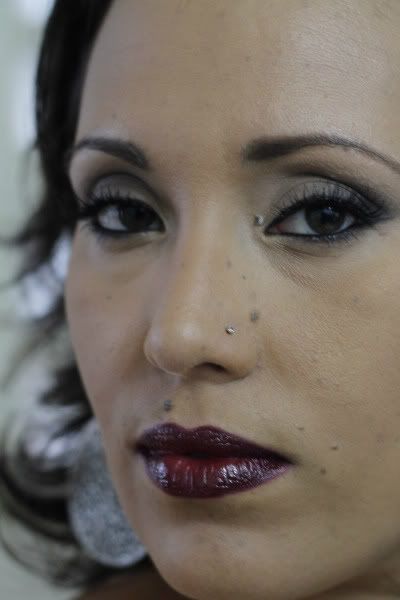 I'm having a great birthday. Here's a bonus pic if the whole family.
You can watch the video here! Please remember to subscribe!
Hugs, kisses and birthday cake!
Mandy